J & P BEAMCON offers high capacity and adjustable connections to concrete structures on composite steel frame buildings.
J&P BEAMCON connectors provide a simple and straightforward method of connecting structural steel beams to reinforced concrete structures such as stair cores. By utilising toothed Jordahl® cast in channels and toothed T-bolt connections, J&P BEAMCON provides a safe and adjustable connection system negating the need for onsite welding or drilling. The J&P BEAMCON assembly allows vertical adjustment of connections so that beams can be accurately levelled and positioned for height. In combination with packing shims and horizontal slots in the end plates at the T-bolt locations, three-dimensional installation tolerance can be achieved.
J&P BEAMCON and toothed T-bolts are available in hot dip galvanized or A4 stainless steel. Adjustable positioning of the beam T-bolt connections is provided by vertically orientated toothed channels and horizontal slots in the fixing plate. If required, high-compression thermal insulation shims can also be provided to thermally insulate the steel beam from the concrete structure. J&P BEAMCON typically consists of two toothed Jordahl® channels joined together in parallel with spacer bars. Toothed Jordahl® channels are available in several load capacities and are used in conjunction with a corresponding range of toothed T-bolts. The length of the channels is defined by either the length of the fixing plate or by the number of T-bolts required to transfer the acting loads on the beam. Custom concrete anchorage can be designed to suit a wide range of loading and structural requirements.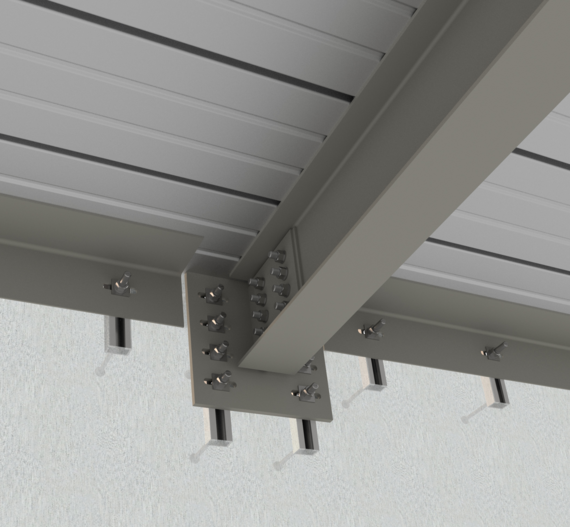 Excellent load performance and fully adjustable connections
Heavy duty, hot rolled toothed profiles absorb both static and dynamic loading
Special modifications aid installation in slip form structures
No specialist labour required for installation
Connector weight is limited to enable hand installation without crane lifting
No special tools or electrical power requirements for installation on site
By replacing drilled connections potential exposure to silica dust is reduced
By replacing drilled connections potential exposure to drilling noise levels is reduced
By replacing drilled connections the risk of drilling noise nuisance to neighbouring offices and residences is reduced
By replacing drilled connections potential exposure to risk from vibrating hand tools and HAVS is reduced.
By replacing welded connections the potential risk of fires or injury caused by falling sparks or hot surfaces is reduced
By replacing welded connections the requirement for any site applied protective finishes after welding is removed.
Whatever you're planning.
We accompany you with expert advice for every application. For a working day in which many things become simpler and the joy of successful results increases.