Ebury Bridge Road, London

J&P BEAMCON Adjustable Steel Beam Connections
48-56 Ebury Bridge Road Belgravia is a new build care home development designed to provide 'Best in Class' care for people with dementia. A dining and events room, cinema room, library, beauty salon and activities studio will compliment 44 beautifully appointed suites.
The project involves the construction of a new building over 41,000 ft², including a single basement, ground floor and five upper floors. Bay windows have been designed to allow maximum natural light to enter the building, and the light brick and stone façade blend with the buildings in the immediate area. The mansard roof will step back from the primary footprint of the building and will be zinc clad.
The building has a concrete frame up to the 5th floor, with the roof's steel structure fixed to the two concrete cores.
Traditionally, steelwork is connected to concrete using weld plates, stud connectors or post-fixing. All these methods have disadvantages. Weld plates can be extremely heavy, are complex to design, and it is difficult to position the steelwork accurately while welding on site. Stud connectors allow for very little fixing tolerance, and with the steelwork contractor often working to tighter tolerances than the concrete frame contractor, this can result in disputes and delays if things don't align. Post fixing introduces prolonged working at height, noise, hand-arm vibration and dust.
Therefore, after discussing with J&P's specification Engineers, the Structural Engineer proposed using J&P BEAMCON at Ebury Bridge Road.
J&P BEAMCON connectors utilise vertical JORDAHL® toothed channels to provide a high capacity and adjustable method of connecting steelwork to concrete. When combined with horizontal slots in the beam endplate, J&P BEAMCON offers excellent vertical and horizontal tolerance.
Suitable for use in slip form, jump form or precast concrete, J&P BEAMCON is bespoke and designed to suit the application. The size and number of channels vary to suit the loads, and the BEAMCON's reinforcement can be modified to fit within slabs, walls, beams, columns etc. The channels are also welded together for ease of installation and to keep them in position with each other.
Upon receipt of the loads from the Structural Engineer and steel sizes from the steel contractor, J&P's Engineers designed connections for the various locations and issued calculations and drawings for approval. Urgently required on site, the design and manufacture were completed expeditiously to meet the site's pour sequence.
The main contractor, steel contractor and concrete frame contractor were highly impressed with how easy the BEAMCON was to install and how smoothly the steel installation went.
J&P BEAMCON Adjustable Steel Beam Connections
Data Sheet | PDF | 4 MB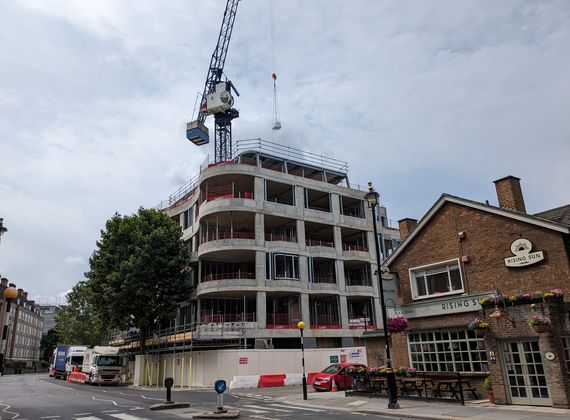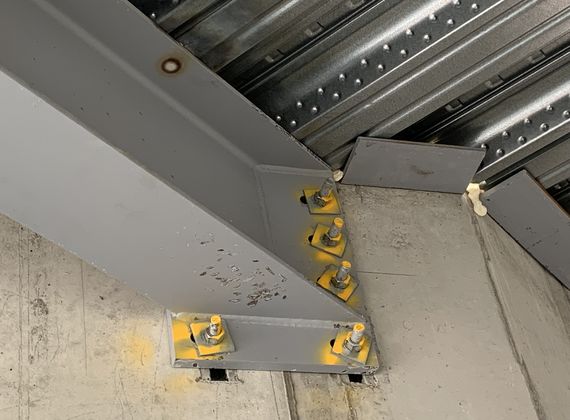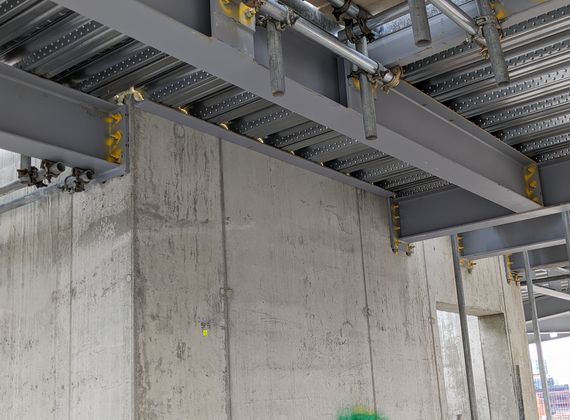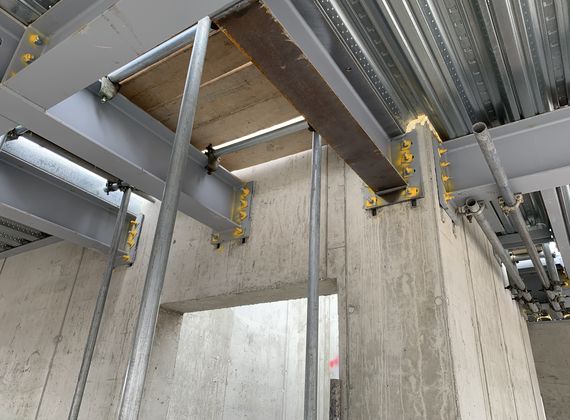 Whatever you're planning.
We accompany you with expert advice for every application. For a working day in which many things become simpler and the joy of successful results increases.