No.1 Riverside, Rochdale

multi-use public building which consolidating numerous council buildings into one.
Winner of the UK Concrete Award 2013 in the building category "Mixed Use", Number One Riverside in Rochdale is a prime example of the benefits to be gained from integrated and co-ordinated design - involving architecture, engineering and supply.
Rochdale Metropolitan Borough Council issued a brief to deliver a building that was BREEAM 'excellent' rated, using architecture and engineering to achieve cost savings and operational efficiency - especially important as the building is designed to rationalise Rochdale Metropolitan Borough Council's estate from 33 buildings into just one.
The design also required new ways of thinking and working - with innovative internal spaces providing both the capacity and environment for a modern civic facility.
Having previously worked with J&P on numerous projects, the team at Permasteelisa contacted J&P to help design and supply the fixing solutions required for their cladding application.
To maximise the view of the adjacent River Roch, the building's west elevation incorporates glazing which spans two storeys, from ground level to the soffit of the structural concrete slab one floor above. The bottom brackets, subjected to both dead and wind loads, were fixed using JORDAHL®JTA K 50/30 cast-in channel from J&P, and the top brackets (subjected to wind loads only) were also fixed using this channel profile.
In addition, there are a number of "pods" on both west and east elevations of the building, designed to provide "links" between the internal, and external environment. These pods were fixed using JORDAHL® JTA 53/34 channel, which accommodated the greater loads required.
Loveld Concrete provided the high-quality precast panels used on both end gable elevations. Unitised glazing was fixed into each panel using JORDAHL® JTA K channel. Each panel was then subsequently fixed back to the concrete structure also using JORDAHL® JTA W 72/48 high-load channel.
JORDAHL® cast-in channel provided the versatility of fixing, whilst J&P provided the quality of support for this prestigious project.
Faulkner Browns Architects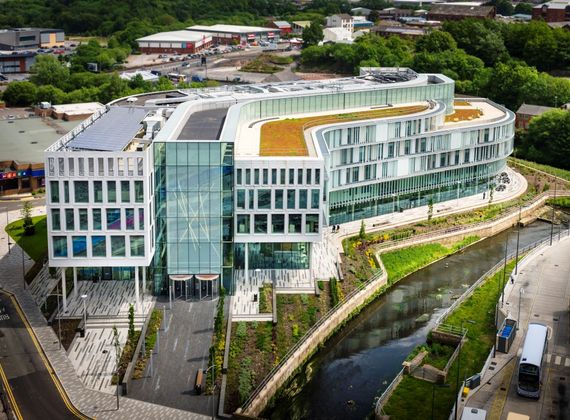 Whatever you're planning.
We accompany you with expert advice for every application. For a working day in which many things become simpler and the joy of successful results increases.